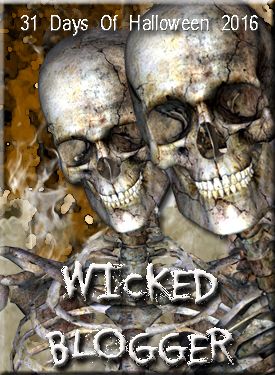 This is the full blog roll...start from Terra...
Terra
Sarah
Alison
Amanda
Lyneen
Susan S
Shell
Susan R

!YOU ARE HERE!


your next stop is...
Lost Coast Portal To Creativity
Monique
Dream In Darkness
Airless Chambers

​


Jessica

​


Michelle
Kelli
Kapree
Genny
Sue
Lisa
Here's another page of my minijournal:
This ATC consists of a pale orange card on black,
topped with the Tattered Lace Haunted House die cut out in black.
Finally a scattering of bronze sequins.
This page on my first minijournal however was interactive...
So...the black card is a sleeve...
And inside is an ATC tag.
The tag is two sided and uses silhouette images from Bugaboo:
I added a few more sequins and ribbon with beads.
These beads are tiny glass pumpkins - I bought them when I was living in Hong Kong!
If you would like to win one of my Halloween makes please check out
31DOH Giveaways!!
.