Challenge #140 starts soon at LOC "LOC"
Our sponsor is Shadow Clocksy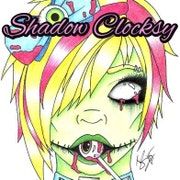 and I have used Alias the Demon on a trio of ATCs
You may remember last week when I used
Limited Runs
Deadly Cupcake
to make 3 ATCs.
Once again I printed the image on a pearlescent card so the markers look smudgy!
The backgrounds are red card matted with embossed spider web paper.
My final touch was to draw on a spider and a line of web.
This week's Challenge at Wicked Wednesday is Hair Do - so I decided to colour these 'hair do's' in unusual colours - and submit this set to WW#219