This is my DT make for
Our sponsor this month is Patties Creations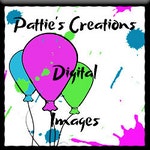 PRIZE: 3 images
www.facebook.com/DigitalImagesbyPattiesCreations
www.etsy.com/shop/pattiescreations
The challenge for this month starting on December 15th is Microbeads.
You know the ones ... itty bitty teeny weeny "beads" that you adhere to projects with gobs of glue or adhesive tape!
Problem is, I searched high and low for the microbeads I had - and couldn't find them - so I used some of the minibeads that I used on that embroidered pumpkin
The image I used was Kitty Snowman coloured with markers and trimmed to size.
I added him on an orange mat to a white card blank. The sentiment is a die from an Advent Calendar a couple of years ago. The beads are on the carrot nose.
I will also link this to