This is my make for the DT team of Outlawz
For the month of April our sponsor is: Pattie's Creations with a prize of 2 digital images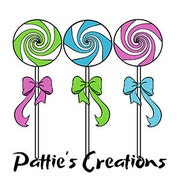 Find inspiration in the song or rhyme:
See, the grass is full of stars,
Fallen in their brightness;
Hearts they have of shining gold,
Rays of shining whiteness.
Buttercups have honeyed hearts,
Bees they love the clover,
But I love the daisies' dance
All the meadow over.
Blow, O blow, you happy winds,
Singing summer's praises,
Up the field and down the field
A-dancing with the daisies.
Note: The theme doesn't have to be taken literally. You may use any word or phrase out of it for your project.
Here is the link to the digi stamp:
https://www.etsy.com/listing/779201672/gerber-daisy-in-vase?ref=sho...
Tall cream card blank.

Layer of brown card.

Image painted with shimmery watercolours and trimmed.
You will find this on the Outlawz Sunday Songs and Rhymes Challenge on April 18th.
Happy Crafting!